A brand new monster-collecting game is on the scene from developer Team17 titled Monster Sanctuary. This new adventure is out now on PlayStation 4, Xbox One, Nintendo Switch, and PC alongside a launch trailer that showcases new gameplay.
Here's an overview of Monster Sanctuary from Team17:
Master the Monster Sanctuary!
Delve deep into the Metroidvania inspired world of Monster Sanctuary, explore the expansive lands and call upon your monsters to lend their aid in and out of combat! Use their unique skills to fly, ride and brute force your way through environmental puzzles and precise platforming! The world is yours to traverse as you see fit, are you ready to take on the Sanctuary?
Collect, Evolve and Battle!
Your quest begins with a choice of an ancient spectral familiar, a wistful monster who will guide your first steps into the sanctuary. They will be by your side as you catch your first of 101 monsters. From here it is up to you to hatch, collect and train monsters from across the world! Each possesses unique abilities and a skill tree for you to customise as your team grows in strength.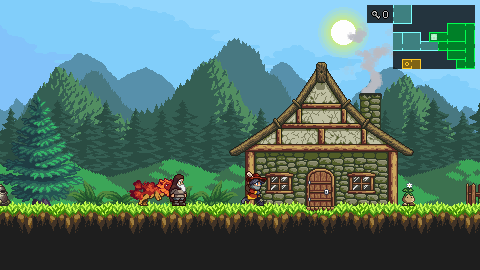 Battle it out in Tactical Combat!
Strategically order your attacks for maximum efficiency, stacking your attacks to deal devastating combos! Grind and find your strongest team to earn the rarest of monster eggs! Encounter formidable foes, endurance challenges and train an unbeatable team!
Clash in Head to Head Battles Across the Globe!
Face off in a test of skill and ability in online player vs player! Gather and train monsters, max out their skill trees and take on friends and foes in an epic battle to have the last monsters standing!